Keeping an eye on online identity, privacy, and security.
Thoughts
This page collects some of my (random?) thoughts about some projects I've been involved in.
I have a lot of intersts, and my brain is often near to full with ideas and thoughts competing for a release. I really enjoy the work that I'm doing (and think it's a cosmic joke I'm paid to do what I love), plus I have varied extravocational interests that drive me to periodically share them. This page collects all of these thoughts as they occur to me.
Star Wars: The Force Awakens
Being an extra in one of the most iconic film series of all time.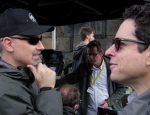 My childhood friend, DC Barns, contributed to the "Star Wars: Force for Change" charity and won an opportunity to be in "Star Wars: The Force Awakens". And when he won the contest, he took me along as his friend to share the fun. For those of us who saw the first Star Wars film in the theaters in 1977, it was a life-changing experience. Being in the new film had even more impact, especially when we climbed the ramp into the iconic Millenium Falcon, sat in the cockpit, and fiddled with the controls. Video | Photos | Interview
Medieval Armor, Renaissance Festivals, and Education
Donning historically accurate armor is more than simple cosplay.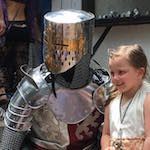 One of the most rewarding hobbies I have is recreating medieval armor... and then wearing it whenever I can. It's based on the armor worn by Conrad de Montferrat during the Third Crusade (1189 - 1192). But it's much more than just an exercise in dressing up; it's about the hours spent researching the period, sourcing the materials and accessories, and then sharing the result with others. Not only do I wear it to Renaissance Festivals, but I also give talks at local schools to educate kids about medieval armor. It's quite fun meeting so many people (mostly, but not all, kids) excited to meet a "real" knight, wear the helmet, heft the sword, and take a picture.
DMARC Email Authentication Standard
Protecting you from yourself, even when you didn't know you needed to be protected.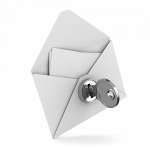 One of the projects in which I've been the most proud to be involved is the development of the Domain-based Message Authentication, Reporting, & Conformance (DMARC) technical specification. The name is definitely a mouthful, but the basic premise is that the specification defends against attackers trying to hijack your email by spoofing your domain. The reason this matters is that it's one of the primary tactics used in a phishing attack, and DMARC virtually shuts that method down. As the Chair of DMARC.org, I was honored to work with some of the best in the industry. And protecting over 2 billion mailboxes from abuse is truly fulfilling.
3D Printing
It was cars, then computers, followed by websites, and now 3D printing is the new tinkering hobby.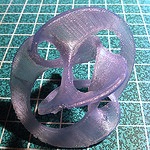 Once again, I have my brother to thank for cluing me into the world of 3D printing, and specifically the RepRap style. A few years ago he built one of the first MakerBot Thing-o-Matic kits (number 23, I think) and then, in the spirit of self-replication, used it to print the parts for his new Mendle Prusa v.2. After a recent visit to his place we chatted, while printing various models, about how the designs have improved to the point where you can spend more time printing then fussing with the machine itself. I connected with the crew at IC3D (I cannot say enough good things about them) and they built me a MendelMax variant which is similar in structure to the Prusa, but more stable. You can follow my projects on Flickr and Thingiverse.
MatchMine
An exercise in making a dream into reality -- and a parable of flying too close to the sun.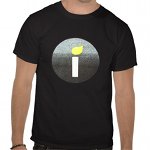 One of the most amazing (and frustrating) projects I've been involved with was what ended up being called MatchMine. It started out as a thought exercise with my brother that, twelve years later, turned into the basis of a multi-million dollar company funded by the Kraft Group. The basic idea was to encode your personal tastes and interests into a portable file format that could follow you around and be used to cater services specifically to you. While we're all familiar with this concept today given the always connected big data cloud in the sky, it was reasonably unique back in the nineties. At least I have a tee-shirt with the company logo on it! More on that story >>
Contact Information:
Email: jtrentadams [at] gmail.com
Skype: jtrentadams